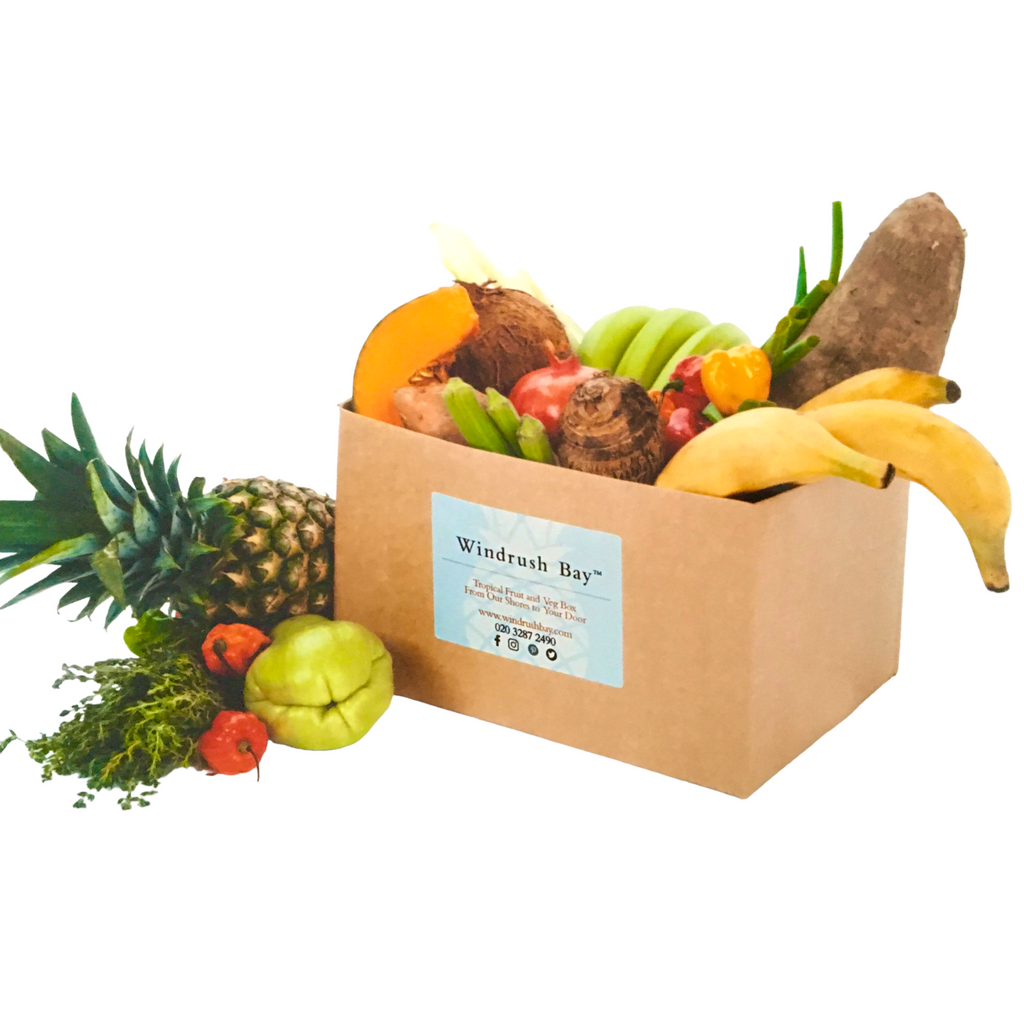 5 Reasons Why You Need a Tropical Fruit And Veg Box
By Joanne Crossley
0 Comments
More customers are enjoying the convenience of having groceries delivered to their home, especially fruit and veg. Since COVID-19 we want to stay healthy as we seek natural alternatives and remedies. 
A great option for a tasty injection of vitamins is to have a Windrush Bay tropical  fruit and veg box delivered to make healthy eating more interesting and colourful. 
Want to know more?
The advice is to eat five portions of fruit and vegetables every day. Get motivated by choosing a variety of things to eat, so it doesn't get boring. Tropical fruit and vegetables are colourful, tasty and versatile. Here are some more reasons to try them out.
1. Healthy eating with no fuss
As well as helping us get our five a day, eating more fruit and vegetables can help improve our health and wellbeing. Tropical fruit contains many vitamins, including vitamin C, found in citrus fruits like oranges and limes, and it helps to support our immune system. Vitamin A is also prevalent in fruits with stones in the centre, like apricots and nectarines.
 It helps strengthen the brain, heart and kidney. Many berries contain vitamin E, and this boosts our eyesight and skin. Bananas are well known to contain potassium to support blood pressure and cardiovascular health and lots of fruit and veg carry good levels of fibre. 
2. Discover new flavours
Caribbean produce offers a variety vegetables, herbs and spices. These include several delicious varieties, such as:
Cassava – a root that is grated, boiled or roasted to add flavour
Coconut – prized for its delicious milk and flesh, which can be toasted or flaked
Mango – sweet tasting fruit with fleshy pulp and a large stone. Often served as a fruit juice
Papaya – delicate, apricot-coloured flesh with peppery black seeds. Can be used as a fruit or vegetable
Pineapple – distinctive shaped fruit, once highly revered amongst the highest parts of society, now more widely consumed
Plantain – starchy, unsweetened variety of banana, cooked before being used in savoury dishes
Watermelon – refreshing, juicy fruit with soft flesh and small seeds. Cut into slices or cubes or juice to serve
Why not branch out and try some new flavours in your tropical fruit and veg box? Add interest to your fruit bowl or spice up some of your usual recipes without having to venture further than your own front door.
3. A taste of Home
For the Windrush generation and their families the cuisines from 'back home' continues to be an important part of Caribbean culture. Caribbean provisions are now easier to have delivered straight to your front door.
 4. Cut down on packaging
We are mindful about the amount of packaging used and we want to do our part to reduce waste. Our fruit fruit and veg box deliveries come with much less packaging and the boxes can be recycled.
5. Inspire the next generation
Give children the opportunity experience new foods rather than sticking to what they know. Why not introduce them to our tropical fruit and veg box and try out some new flavours.