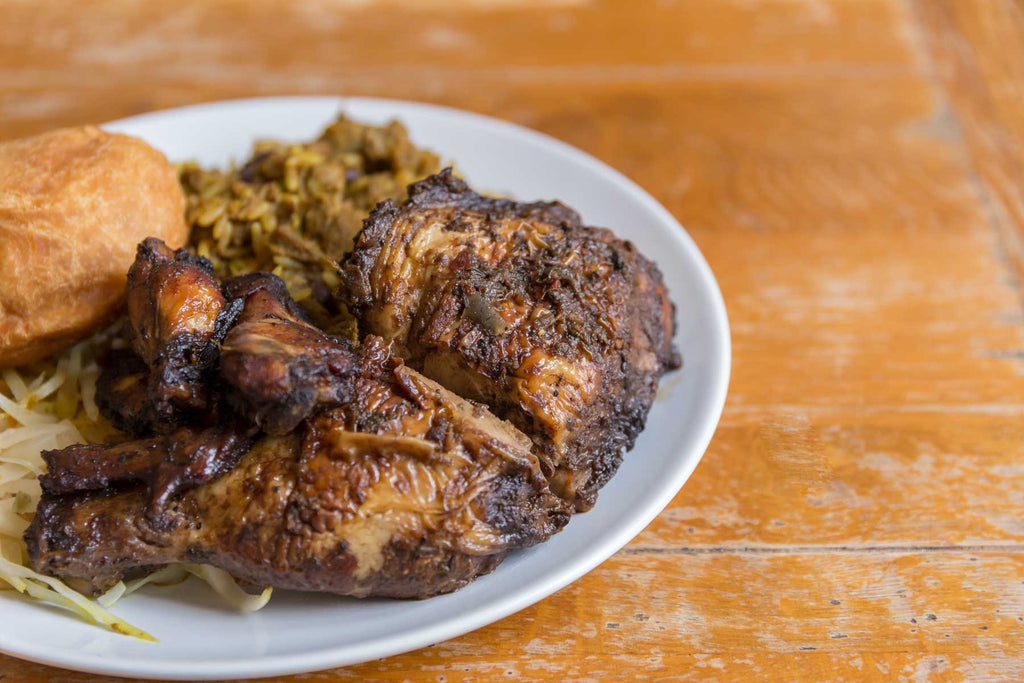 Stay Warm This Winter With Delicious Caribbean Food
By Joanne Crossley
0 Comments
Caribbean food often conjures up images of endless sunshine and clear blue skies, but that doesn't mean that consumption is limited to summer! The region's rich and colourful dishes are ideal in colder temperatures and shorter winter days. Whether you want to warm up, remember sunnier times, celebrate or embrace healthier living this winter, here are some Caribbean food ideas to try.

Evoking memories of warmer days

Jerk chicken  is a staple dish of any summer Caribbean celebration, but it can be served all year round, including winter. Marinade chicken in a combination of Scotch Bonnet peppers, brown sugar, ginger, herbs and spices and of course, the signature pimento seeds to produce the unmistakable, smoky flavour. Serve with rice or provisions such as yams and green bananas, add some salad, depending on how summery you want to feel.  
 

Cast your mind back to strolling past street food vendors and picking up a helping of doubles for lunch. "Doubles" is a popular Trinidadian snack containing two pieces of fried flatbread with a mix of beans, tamarind, cucumber, mango, coconut, peppers and more, stuffed in between. It's as simple to eat in front of a warming fire as relaxing on the beach on a hot summer's day!
Comforting dishes to warm body and soul 

During the winter, warming Caribbean food can help to keep out the chill and delight the soul with a heady mix of flavours and textures. Comforting Caribbean food includes hard dough bread with butter or jam, an excellent alternative for a tea-time treat.  
Why not add some rice and peas to your plate for a wintery main meal? This simple, tasty dish is comforting and filling, made from rice with kidney beans; alternatively, you can use black-eyed peas or gungo peas (or mix them all!), making it an ideal meal option for vegetarians and vegans.
The staple  Caribbean soup, including pumpkin, yam, okra and 'spinner' dumplings, is the perfect winter warmer and can be made with or without meat.
New Year, New health kick?  
We can all overdo it over Christmas and winter as we turn to food for celebration and comfort. Now is the time to embrace the array of tropical fruit and vegetables to maximise our vitamin intake and support our immune systems against seasonal viruses. Try making a jar of pikliz, the Haitian pickled vegetable accompaniment to seafood and cold meats. It looks beautiful on the plate and is crammed full of goodness. Chop up some strips of carrots, shallots, Scotch Bonnet peppers and cabbage and combine with herbs, lime juice, garlic cloves and distilled white vinegar. Shake the jar twice a day for a minimum of three days before serving.
Leave out alcohol this January and replace it with some tropical 'mocktails' based on mango juice, pineapple, lime or papaya. You can also make mango chutney to liven up a healthy couscous dish or low-fat vegetable curry.  

 
With the ease of shopping online for tropical fruit and vegetables will help to make your New Year's resolution so much easier to achieve.  Check out our fruit and veg selection.