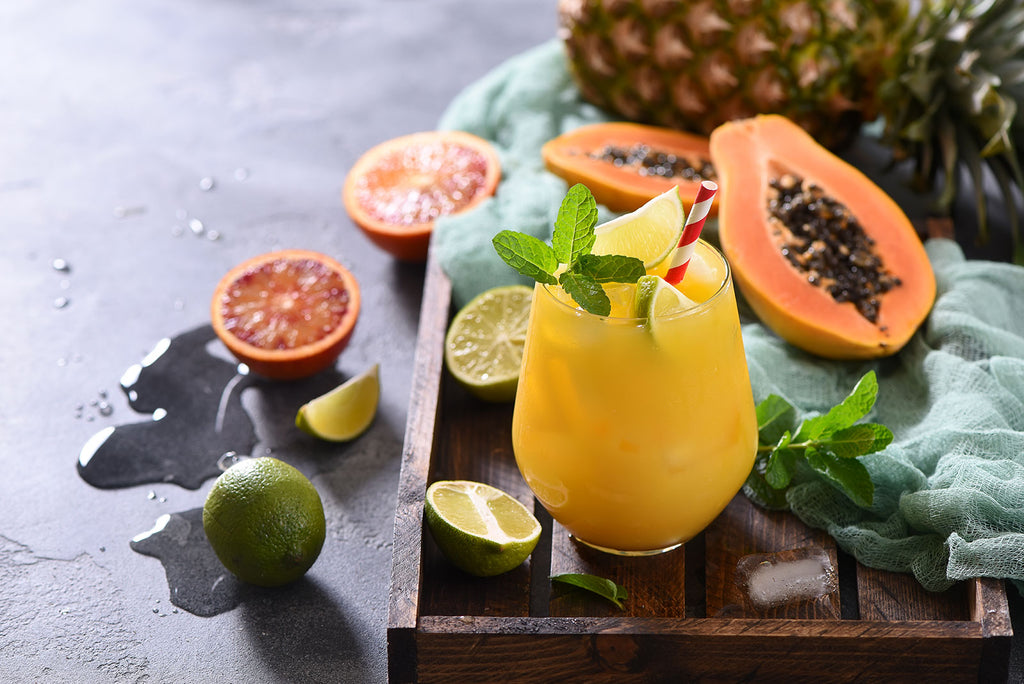 Best Caribbean Drinks to Try This Autumn
By Joanne Crossley
0 Comments
Many tropical cocktails, alcoholic tipples and soft, fruity drinks are based on that staple of Caribbean drinks – rum. Rum has been around since the 17th century. It is made from fermented and distilled sugar cane molasses or juice.
The Caribbean region has inspired a huge range of delicious drinks to tempt anyone's taste buds. Some include rum, some do not. However, they all evoke a heady combination of endless sunshine, tropical fruits and beguiling Caribbean ingredients. So, have fun this autumn and bring back a taste of summer with some of these Caribbean drinks ideas.
Some common Caribbean drinks ingredients include:
· Rum (dark and light)
· Tequila
· Lime juice
· Pineapple juice
· Lemon juice
· Grenadine juice
· Coconut water or cream
· Cola
· Club soda
· Sugar
· Mint
· Slices and wedges of fruit to garnish
· Crushed or cubed ice
If you want to experiment with different Caribbean drinks, you might like to collect these ingredients, as well as a suitable cocktail shaker, glasses and stirrers. Here are several tasty examples of tropical drinks to get you started.
Coconut water
This drink is thirst-quenching and increasingly popular with the fitness industry. This is because it is very quick to hydrate you and tastes delicious. A great alternative to water for people with active lifestyles.
Cuba Libra
This tasty rum cocktail from Cuba evokes sunshine, music and sandy beaches. Combine light rum with ice, cola and a couple of slices of lime. Add ice, stir and serve. Guaranteed to lift the spirits and get the dancing feet going.
Pina Colada
We have Puerto Rico to thank for this refreshing, blended drink that epitomises the taste of the tropical islands. Coconut cream is blended with light rum and pineapple juice before being served in a tall glass with a wedge of pineapple.
Tropical fruit juices
From pineapple to mango; grapefruit to papaya, many of the Caribbean fruits make amazing juices for breakfast or an alternative to alcohol at parties. They can also be used to add zest to cocktails or added to desserts for a fun, fruity flavour. Other juices include grapes juice, passion fruit, orange, lime and grenadine.
Planter's Punch
Evoking the sugar plantations of old, this Jamaican delicacy is a famous Caribbean cocktail.Light rum is mixed with splashes of orange, lemon and grenadine juice for a citrussy, fresh taste. Add crushed ice and garnish with lemon slices.
Daquiri
Another Caribbean drink from Cuba. It can be made with chilled ingredients or with added crushed ice to cool down on those warm Indian summer evenings. Light rum is mixed with lime juice, superfine sugar and ice. It is then strained and served very cold. You can also add bananas for a different variety
Mojito
We remain in Cuba for this minty sensation that contains rum, sugar, mint, club soda and lime wedges to serve. A Mojito shows your class and boosts your spirits with its fresh, minty taste. The perfect Caribbean drink to serve at parties.
Dark and Stormy
The nautical themed drink from Bermuda offers a startling contrast to the lighter, summery drinks above. Great to welcome in the darker days of autumn. Mix dark rum with ginger beer and a squeeze of lime. Serve with ice and a lime wedge garnish for a spicy, comforting taste.
Bahama Mama
Rumoured to have first been created during the Prohibition years, this dark and light rum based drink has a complex, heady taste.
Added ingredients include coffee, coconut liquor, pineapple juice and lemons.
Painkiller
More exciting than a headache pill, this is a mix of dark rum, pineapple juice, orange juice, sweet coconut cream and ice. Originating from the British Virgin Islands, the Caribbean drink as cocktail is topped with nutmeg for an extra kick.
Margarita
Hailing from nearby Mexico, the Margarita is a tequila-based cocktail with added orange liquor, triple sec (e.g. Cointreau) and lime juice. It is served with lots of ice in a salt-rimmed glass.
Soft drinks from the Caribbean
For those who don't drink alcohol or want to keep a clear head, there is plenty of choice when it comes to tropical drinks to try:
Ginger tea
A revitalising herbal tea with the added spicy kick of ginger to wake you up. Ginger tea can be mixed with honey or lemongrass for additional taste combinations. It is a great drink to have first thing in the morning, ahead of a busy day.